Der Monat März hält für uns einige Blockbuster-Spieletitel im "Games with Gold" für uns bereit. Unter ihnen der Vier-gegen-Einen Taktikshooter Evolve, welcher eine gute Mischung aus Team Fortress und Monster Hunter bietet und des 360-Klassikers Borderlands 2, dem bekannten Shooter-RPG mit dem bazillionen Waffen Motto. Weitere Titel sind Layers of Fear und Heavy Weapon.
Layers of Fear verfügbar vom 1. bis zum 31. März auf Xbox One.
Der Monat beginnt abgedreht mit Layers of Fear. Im Grusel-Titel schlüpfst Du in die Rolle eines labilen Künstlers, der davon besessen ist, sein Meisterwerk fertigzustellen. Hierbei wird er nicht nur von seiner Vergangenheit, sondern auch von seinen eigenen Kreationen heimgesucht. Durch die Verzerrung von Kunst und Architektur, wird Deine Vorstellungskraft in diesem großartig grotesken Horror-Spiel ein ums andere Mal auf die Probe gestellt.
Evolve Ultimate Edition verfügbar vom 16. März bis zum 15. April auf Xbox One.
Beweise Dich im Vier-gegen-Einen-Shooter Evolve Ultimate Edition, indem du entweder als mächtiges Monster mit unbändiger Power vier Jäger auf spektakuläre Weise überlistest – oder als Teil des Jägerteams mit individuellen Fähigkeiten das Monster niederstreckst. Die endlosen Kombinationen aus Jägern, Monstern, Karten und Spielmodi sorgen dafür, dass keine Jagd wie die vorherige ist. Zusätzliche Spannung bringen neue Looks und Charaktere, die Du freischalten kannst.
Borderlands 2 verfügbar vom 1. bis zum 15. März auf Xbox 360 und Xbox One.
Der Action-Kracher Borderlands 2 ist zurück! Dank Abwärtskompatibilität nun sowohl auf Xbox 360 als auch auf der Xbox One verfügbar, kannst Du Dir diesen Kult-Titel für begrenzte Zeit kostenlos ab dem 1. März sichern. Nachdem Dich Handsome Jack zum Sterben in der eisigen Tundra von Pandora zurückgelassen hat, kämpfst Du in dem Rollenspiel-Ego-Shooter ums nackte Überleben. Stelle dich Deinen Feinden mit bis zu drei Freunden oder alleine in dem hochfrequenten Shooter.
Heavy Weapon verfügbar vom 16. bis zum 31. März auf Xbox 360 und Xbox One.
Den Abschluss macht Heavy Weapon, ein rasanter Shoot-Em-Up-Titel im Retrodesign. Die pixelige Aufmachung harmoniert hervorragend mit dem actionreichen Gameplay. Mit 19 Story-basierten Missionen, einem zusätzlichen Überlebensmodus und dem kooperativen Online-Modus offenbaren sich Dir zahlreiche Möglichkeiten, Deine Fähigkeiten im anspruchsvollen Arcade-Modus unter Beweis zu stellen.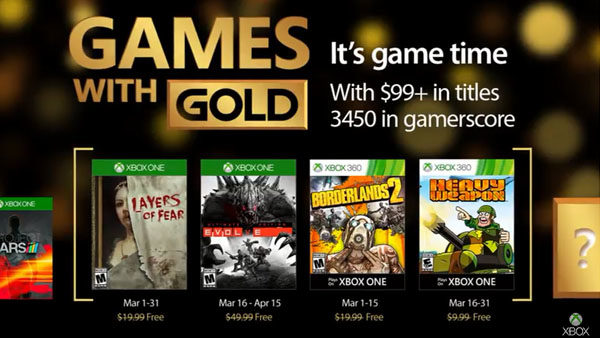 Der März verspricht, uns gut zu unterhalten. Seid schnell und lasst euch die Titel nicht entgehen.
Quelle: Xbox Pressemail